How to Stay Motivated and Effective as You Prepare to Move Abroad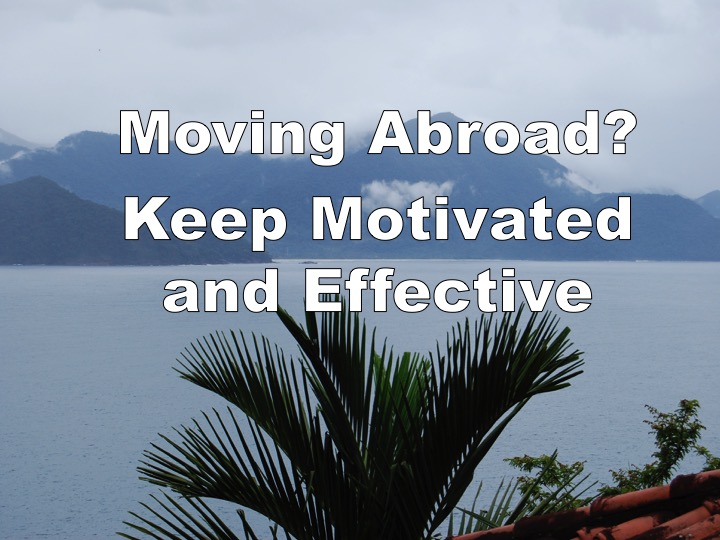 Few would argue that moving abroad brings uncertainty and many challenges. Some researchers even rank moving houses, as the third most stressful event in life. But the reality remains that we, expatriates, have to relocate from one place to another. Thus, each of us has to be responsible for staying motivated and effective during these transitional times.
My international transfers have happened with little warning – usually 3-4 months. As a family, we have moved to 13 different homes between four continents so far. This list doesn't include the 10 or so three-month temporary stays at hotels and apartments. After the first few rounds of relocating between countries, I noticed that my original approach to this process wasn't effective at all.
It's my nature to dive into projects and drive myself to exhaustion. This type of behavior, shared amidst those frequently moving,  sabotaged my day-to-day performance and prevented enjoyment during those initial months. So, I suggest that you pay attention to your personal style to get things done under stress.
On a side note, have you ever wondered why public establishments have so many fire drills?    
Studies show that awareness and preparedness are essential to reduce mistakes, in this case diminishing a possible disaster. That being said, when it comes to moving, we also can benefit from preparing ourselves, being aware of our limitations, and finding strategies for improvement BEFORE this highly difficult period begins.
Here are some tips on how to stay motivated and effective during moving times.
– Prepare: this preparation goes beyond the usual aspects of relocating to another country, such as establishing a new house, dealing with paperwork, contacting moving companies, etc.
Here I want your attention to other equally important aspects of preparing to move.
First of all, be open to unconventional tactics. There are simple, but often overlooked actions you can take to ease your upcoming change of residence.
For instance, even if you have relocation services at your disposal, involve all family members in the information collecting stage. Some transferees feel responsible for doing most of the work related to relocation themselves. Unknowingly, stealing away an opportunity for mental preparation from the other involved persons.
Actions – contact your consulate/embassy, use your network of friends and family, and take advantage of online expatriate communities.
Ask questions, ask questions and ask questions. And then, ask some more.
– Plan a life abroad for ALL family members: Family issues are the leading causes of expat assignment failure. In my experience, I notice that expatriates tend to prioritize the needs of their children in the expense of the accompanying spouses' and the transferring partner's necessities. Although, helping our kids first may be required in many cases, directing our energy exclusively towards them isn't sustainable and desirable for most us. Establish roles for everyone.
If the accompanying partner is leaving a job or business behind, it's key to have a plan in place for this individual's continuing activities. The same goes for the homemaker partner. If they were involved in sports, religious, hobby or parents associations, seek out similar groups and join in BEFORE making the move. You can always dissociate if necessary.
– Create a Modified Pro and Con List: assuming you have already decided that you are moving, create a list of all things your dislike in your country and the things you like in your new destination. We are not comparing countries here. This list is a tool to keep you motivated when doubt sets in. It's a fact that many of us will revisit our decision of moving abroad, and by having an inventory of our likes and dislikes,  we can remind ourselves of our original reasons for relocating.
– Leave all Doors Open: with the frenzied pace often created by an international move, we may neglect to deal appropriately with our family and friends. These dear people in our lives are all going through a transition as well, leading to not having us around. Share as much information as possible, including the causes that let you embark on this new life and how you plan to keep in touch. If feasible, book a trip home even before leaving.
Also, inform your business associates of your decision to move – be brief and professional. If the transfer originated in the same company, let them know that you look forward offering and receiving support from this organizational branch while you are abroad. Create a feeling of work continuity. If the move happened due to another company, if appropriate, maintain the ties with your former co-workers.
The same neutral attitude applies to the accompanying partner's working relations and acquaintances. However, in this case, you can be a little more revealing and state that if the assignment doesn't work out you and your family will be happy to return home. This attitude puts less pressure on you if the need of moving back happens.
– Say your Goodbyes: with all the modern ways available to keep in touch, a few of us may feel tempted to skip the ritual of saying farewell to significant people in our lives. By all means, avoid the pitfall of opting for something impersonal, such as a phone call, an email or even a text message.
I know, saying goodbye sucks!   But, your time investment in saying proper goodbyes will pay back once you are living miles and miles away. If your schedule doesn't allow for a visit or a group gathering, a video conference can be a good option.
"If you are brave enough to say goodbye, life will reward you with a new hello."  Paulo Coelho
Here are a few  fun and bonding ways to personalize your farewell parties while bonding and creating long lasting memories.  
Sayonara Kokeshi Doll (Message Doll) is a traditional wooden Japanese doll wearing a kimono. As you unroll the Kimono you will have a scroll lined with Japanese paper where you can write your farewell messages.
2. A quilt project is a great idea to take memories with you. The one below was done by a group of expatriates living in a suburban area of Sao Paulo, Brazil. Although it requires more time, it is strong bonding and memory creating experience.
3. Painting projects are yet another fun way to take our memories home.
4. Wishing Ball – Recently, I was a guest at a farewell party. The hostess purchased a wishing glass ball.  Each of us wrote a word on a tiny piece of paper, read the word to the friend moving away, rolled the paper and put it in the glass globe which could never be opened. Such a candid and meaningful way for a group send off! 
What are some of the activities you have to make saying goodbyes less painful?
---
In the end, you have to recognize that  you are the one with power to choose how to experience your international relocation. Use some or all of the tips above and learn from the answers you collected during the preparation phase. Ultimately, it's the combination of what you know and how you act and feel that will determine your successful move.
Good luck!